We specialize in:
Bait Treatment (Sentricon® System)
Liquid Treatments (Premis by Bayer or Termidor)
Termite Insurance
Letter of Clearance
The time to treat for termites is now! Termites cause millions of dollars in damages a year! These home damaging insects begin swarming in March, or as soon as spring temperatures are in the 70's, and can be seen as late as September. If you see winged, ant-like insects around, it's important for you to know the difference between an ant and a subterranean termite. Use the picture below to help you decide or just give us a call. If these are termites, then there is an established colony nearby looking for new nesting grounds, and that means your home is in danger. Immediately call us and we'll eliminate the old colony and prevent a new one from nesting, protecting you from these destructive insects.
Many people believe that because a building is made with concrete floors or block walls, it's safe from termites but actually, that is not true! Infestations of termites are usually caused by moisture under or around your home due to poor drainage of your yard, lack of or improperly installed gutters, leaks under your house, and by disturbing the soil by landscaping and mulching. Evidence to watch for includes mud shelter tubes on foundation walls or even interior walls and door facings where they may join slab porches, patios, garages, window frames and carports.
Call us if you have purchased, built, or added on to your home, we offer free inspections giving you the information needed to help prevent potential structural damage. We offer yearly and lifetime contracts, we also include a courtesy spray around your home at the time of your yearly termite inspection. Termite insurance is available for qualified homes.  Clearance letters are available for anyone with or without a current contract.
Servall inspections are free and we guarantee 100% satisfaction.
Learn the dangerous difference between termites and ants!
Have you noticed any of the following signs?

–  A temporary swarm of winged insects

–  Discarded wings near doors and windows

–  Mud tubes on foundation or interior walls, in the basement, crawl space, door facings where they join slab porches, patios, garages and carports

–   Hollow sounding wall studs
Examples of termite damage: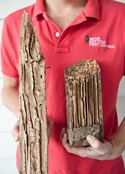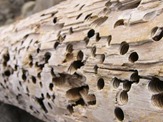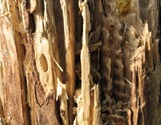 —————   Bait Treatments   —————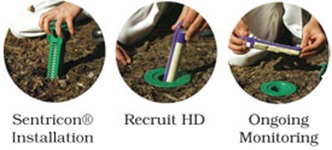 Sentricon® Termite Colony Elimination System is easy to live with and is the effective, environmentally responsible way to protect a home from termites. That's why it's the product of choice for millions of homemakers and used to protect many national landmarks, such as the White House, the Statue of Liberty and Independence Hall. To eliminate an existing termite colony or protect against an invading colony, Sentricon stations are placed in the soil around a home. This is much less disruptive to your family, buildings and landscaping than other termite treatments:
No drilling in floors and foundations
No extensive digging or trenching in the landscape and other areas around a home
No chemical solution injected in the ground under and around a home
No tank trucks of chemical solution
No scheduling hassles
Environmentally Responsible
The Sentricon® System uses only a few grams of active ingredients contained in bait stations where it poses no hazard to groundwater, and has no label restrictions for use around wells and cisterns. Registered under the Reduced Risk Pesticide Initiative of the U.S. Environmental Protection Agency it is the only termite control product ever to receive the Presidential Green Chemistry Challenge Award.
Relentless Foe
Termites never stop feeding. They never stop seeking new sources of wood. It can be stumps, fallen trees or your home. The reality with termites is that you seldom realize they are present until the colony has become either so large that damage becomes obvious, or winged "swarmers" expose the colony's presence as they fly out to establish new colonies.
Overthrow the Queen!
As long as there is a termite queen, there is a termite colony. The Sentricon® System kills the colony and its queen. No queen. No colony. No problem.
—————   Liquid Treatments   —————

Premise by Bayer
Your family's well-being comes first when deciding what's best for your home. You trust Bayer with your health, now you can trust Bayer with your home. The Premise family of products from Bayer provides peace of mind. Premise has delivered responsible elimination that has been proven in more than 1 million homes and as professionals who work with termite treatments daily, we're concerned about product safety and effectiveness just as you are.
Premise is applied at a very low rate – up to 10 times lower than other termite treatments and has an extremely low volatility, which means there are no airborne chemicals, virtually no odor and a low risk for exposure. In fact, of all the termite control products on the market, Premise has the lowest application rate and you even can stay in your home during treatment without worry.

Termidor Termite Control
America's #1 termite defense with over 3 million homes treated since 2000.
The unique Termidor "Transfer Effect" means affecting termites help pass Termidor on to their entire population before dying themselves.
Starts working immediately, and completely rids homes of termites faster than any other product.
The world's most effective termiticide – over 12 years of test data proves unparalleled effectiveness.
Low-dose treatment, with no odor.
Only pest professionals, who have been Termidor-certified, can apply Termidor.