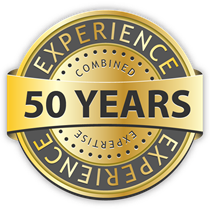 Servall LLC was founded in Paris, TN in 1963 and we're proud to say that we have been serving communities across Kentucky and Tennessee for over 50 years!  Over the last 30 years we have opened branches in Murray and Paducah, KY, Clarksville, Dickson, and Martin, TN. The primary focus of most pest control services is to kill bugs but we offer a broader range of products and services that go above and beyond ordinary pest control companies. We are not only a full service pest management company that eliminates your everyday pesky insects, we also work "outside the box" by providing home/business care solutions that repair, prevent, and preserve the integrity and value of your home.
Servall's professional exterminators manage your pest control and our trained staff works with you to provide solutions for your foundation ventilation and other crawl space needs, sump pump installation, dryer vent installation, wood fungal rot treatment, repair or replacement floor joists, patented floor support system installation, infra-red imaging for insulation efficiency, as well as a number of other home/business care services. Just one call to us will eliminate the need to talk to anyone else because we have what it takes to get the job done.
Our company motto simply states that Servall is the only pest control and home/business care company you will ever need. Whatever the need, Servall can handle it, and we guarantee our work absolutely and unconditionally 100%!